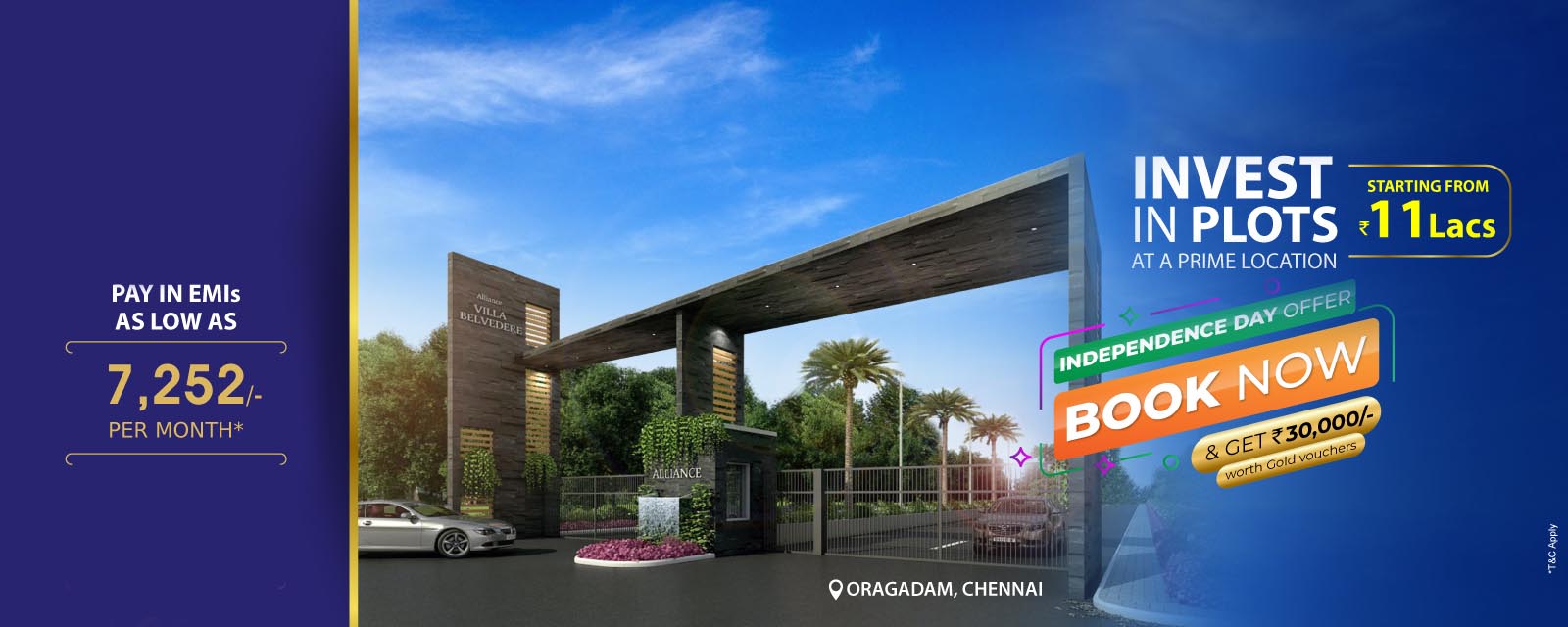 THIS IS A LIMITED
LOCK DOWN PERIOD OFFER
One of the richest Americans in history Andrew Carnegie once said
"Ninety percent of all millionaires become so through owning real estate."
The truth behind this statement has been revealed as investment in Land has emerged as the only Safe investment in the current times. Stock markets Worldwide are crashing owing to various reasons and the gold market is experiencing extreme turmoil, in this scenario, the only investment that ensures the safety of the funds and also appreciates over time is the investment in Land, the smartest investment for the future.
Why is Villa Belvedere the right Investment for You?
* Villa Belvedere, DTCP APPROVED PREMIUM VILLA PLOTs IN ORAGADAM, offers the best of both worlds, the luxuries and the security of community lifestyle in the city, coupled with the wonderful bliss of living close to Nature in a green and clean environment. Situated in Oragadam, rightly called as the 'the most developed industrial belt in South Asia', these Villa Plots offers an array of benefits -
* ViB is a prestigious project of Alliance, South India's largest real estate developer with projects worth Rs. 14,000 crores (3.6 crores Sq.ft) under execution in Bangalore, Chennai, Hyderabad, and Vizag.
* Alliance projects are most dependable and ensure the safety of investment and timely project completion for they are Funded by the World's largest sovereign fund ADIA (Abu Dhabi Investment Authority) & Kotak Realty Fund.
* The DTCP APPROVED PLOTS come with clear titles, and a well-constructed Compound wall for the entire gated community of 54 acres with security guards, guaranteeing the safety of the investment.
* Situated Close to GST road (NH45) & GWT road (NH 4), ViB enjoys proximity to many corporate & industrial giants, and easy access to many of the best schools & colleges in the city which ensures very good appreciation of the Property.
* ViB offers world-class infrastructure in the community - Wide Blacktop roads, beautifully landscaped parks, Avenue plantation, Street lighting, and Underground stormwater drainage, Underground sewage lines, Underground power lines, Rainwater harvesting pits, World-class Clubhouse and much more. These features make ViB one of the most sought after Community Villa Plots.
With great infrastructure development and abundance of groundwater real estate properties at Oragadam have appreciated at a rate of 150% since 2008*. With an exponential increase in the demand for Quality housing in and around Oragadam, your investment in Villa Belvedere, Oragadam, is your Golden Investment for a bright and secure future.